KayKit - Character Pack : Adventurers
A downloadable asset pack
KayKit - Character Pack : Adventurers

The Adventurers Character Pack is a bundle of characters assets that contain 4 (+2 in the EXTRA tier) stylised low-poly character assets. The characters are fully rigged and animated and come with 75 animations and 25+ accessories
Contents
4 fully textured/rigged/animated dungeon themed characters.
25+ weapons/accessories including swords/shields/axes/crossbows/arrows/staff/wand and more! So your adventurers will always have the right tool at hand!
75 animations, a full list below:

Idle
Walking_A
Walking_B
Walking_C
Walking_Backward
Running_A
Running_B
Running_Strafe_Right
Running_Strafe_Left
Jump_Full_Short
Jump_Full_Long
Jump_Start
Jump_Idle
Jump_Land
Dodge_Right
Dodge_Left
Dodge_Forward
Dodge_Backward
Pickup
Use Item
Throw
Interact
Cheer
Hit_A
Hit_B
Death_A
Death_A_Pose
Death_B
Death_B_Pose
1H_Melee_Attack_Chop
1H_Melee_Attack_Slice_Diagonal
1H_Melee_Attack_Slice_Horizontal
1H_Melee_Attack_Stab
2H_Melee_Idle
2H_Melee_Attack_Chop
2H_Melee_Attack_Slice
2H_Melee_Attack_Stab
2H_Melee_Attack_Spin
2H_Melee_Attack_Spinning
Dualwield_Melee_Attack_Chop
Dualwield_Melee_Attack_Slice
Dualwield_Melee_Attack_Stab
Unarmed_Idle
Unarmed_Pose
Unarmed_Melee_Attack_Punch_A
Unarmed_Melee_Attack_Punch_B
Unarmed_Melee_Attack_Kick
Block
Blocking
Block_Hit
Block_Attack
1H_Ranged_Aiming
1H_Ranged_Shoot
1H_Ranged_Shooting
1H_Ranged_Reload
2H_Ranged_Aiming
2H_Ranged_Shoot
2H_Ranged_Shooting
2H_Ranged_Reload
Spellcast_Shoot
Spellcast_Raise
Spellcast_Long
Spellcast_Charge
Lie_Down
Lie_Idle
Lie_Pose
Lie_StandUp
Sit_Chair_Down
Sit_Chair_Idle
Sit_Chair_Pose
Sit_Chair_StandUp
Sit_Floor_Down
Sit_Floor_Idle
Sit_Floor_Pose
Sit_Floor_StandUp
Features
Animated Characters so you don't have to search for suitable animations.
Low poly optimized models, suitable for all ranges of games, including mobile.
Textured using a single gradient atlas texture (1024x1024) that can be downsampled to 128x128 for further optimization
Free for personal and commercial use, no attribution required. (CC0 Licensed)

Included files are .FBX, .GLTF, The files are compatible with pretty much any 3D game engine on the market (including Unity, Godot, Unreal Engine, Roblox, and more).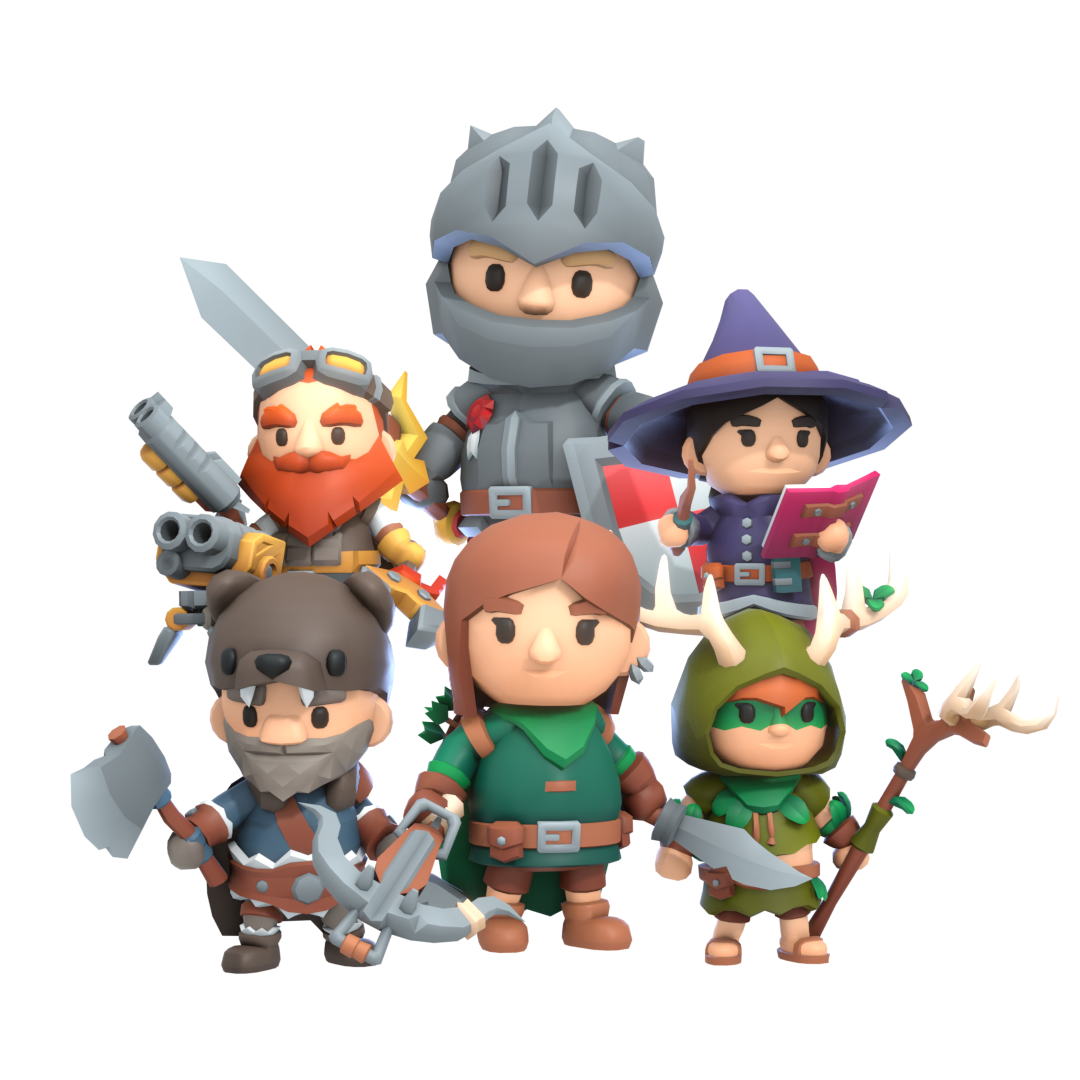 Versions:

By purchasing the extra version you get some additional content while also supporting me to continue creating game assets :)

FREE : Free! The standard version includes 4 beautifully crafted 3d character models, that are completely free to use in any project of your choosing (yes, also commercially). Each character comes with a handful of accessories that include various weapons/shields and other handheld accessories

EXTRA : Pay $7.95 or more and get 2 extra characters with accessories. A crafty Engineer with his trusty Turret and a mysterious Druid! Also included in the EXTRA tier is a set of 3 alternative textures for each of the 6 adventurers, to give you some more colour variations to choose from.

SOURCE : Pay $11.95 or more to access the source files (.blend) for when you need full editability of the assets for your project. (this also includes everything in the EXTRA version)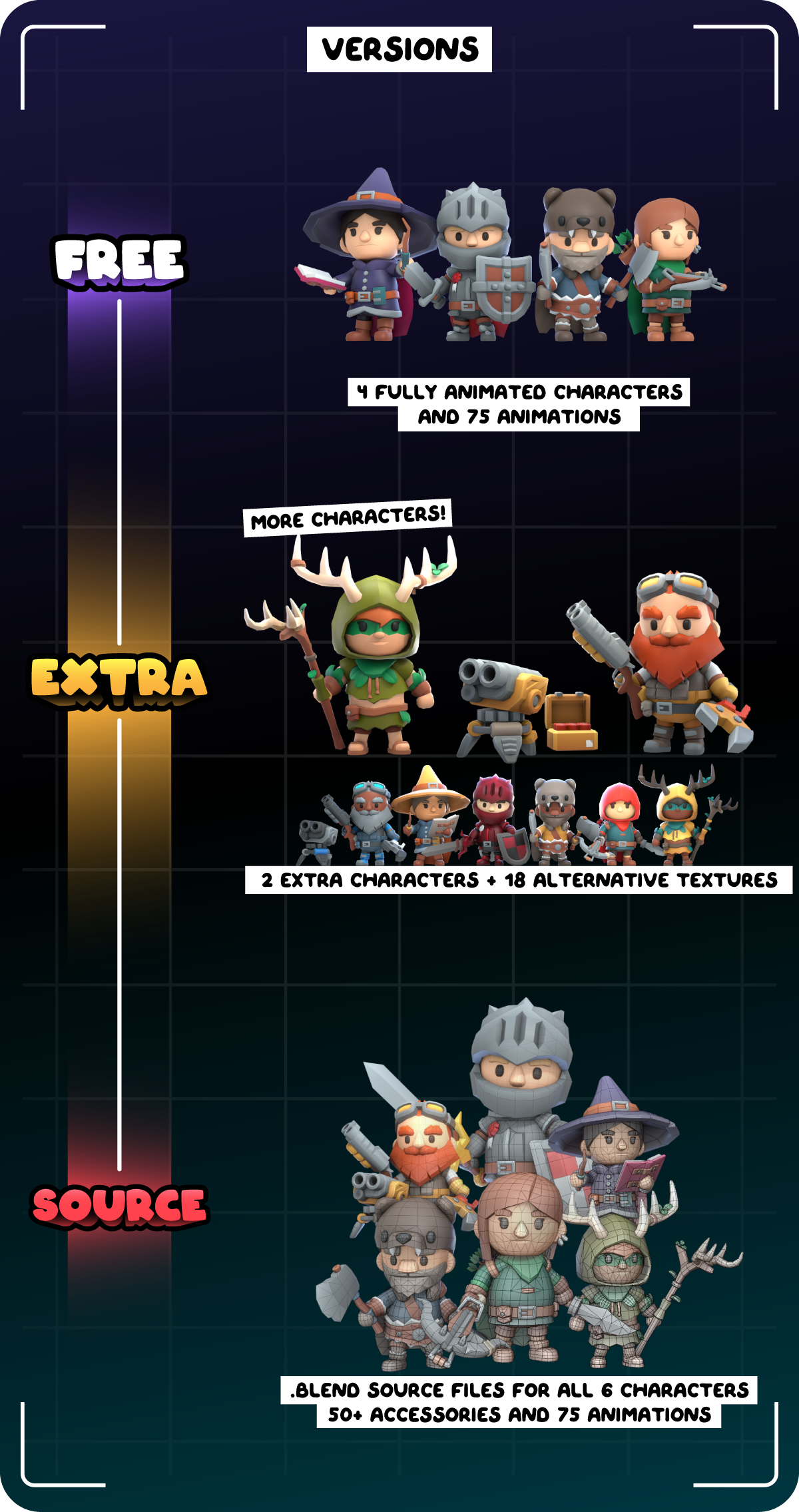 Join the Community
If you have any suggestions or questions, or just want to show of your project you're welcome to join the KayKit Discord Server
Additional support
I'd love to keep creating stuff for free, so any (aspiring) gamedev has access to cool looking assets and can start creating fun games.
To help me create more free stuff, consider purchasing one of the additional versions or check out my Patreon where you can get access to future packs earlier, and receive a mystery character each month!

If you're not able to provide financial support but still would like to help, tell your gamedev friends or favourite content-creator about these packs and spread the word, it helps a ton!
Check out the other KayKit packs here :






| | |
| --- | --- |
| Updated | 2 days ago |
| Status | Released |
| Category | Assets |
| Rating | |
| Author | Kay Lousberg |
| Genre | Role Playing |
| Made with | GameMaker: Studio, Unity, GDevelop, Defold, Godot, Unreal Engine |
| Tags | 3D, animated, Characters, game-assets, Godot, Low-poly, models, rigged, Roguelike |
| Asset license | Creative Commons Zero v1.0 Universal |
| Links | Patreon, Twitter |
Download
Click download now to get access to the following files:
if you pay $7.95 USD or more
if you pay $11.95 USD or more